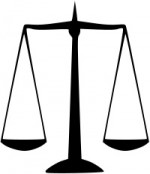 Teenagers across South Gloucestershire are having the chance to see crime and punishment first-hand.
Local schools are the first in the Avon and Somerset policing area to take part in 'Getting Court', an educational programme which has proved a great success in Gloucestershire.
It's supported by the High Sheriff of Gloucestershire, Duncan Clegg, and the Avon and Somerset Police Community Trust, who have funded teacher Sue Squires to liaise with schools and offer support. South Gloucestershire Council is co-ordinating the programme.
Mr Clegg said:
"This is really about citizenship. Getting Court sows some seeds early in life about what is expected of them when they grow up. It will also help them in future if they have to appear in court as a witness or serve on a jury."
The initiative has also won the backing of His Honour Judge Mark Horton, who has already pioneered visits to schools – complete with wig and gown – and allows classes to visit Bristol Crown Court while a trial is in session.
Pupils from Sir Bernard Lovell School were among the first to experience Getting Court, plus an extra session provided by HHJ Horton, and their comments include:
"It was an experience of a lifetime … this has led me to seriously consider a career in law … I want to go back to the courts and observe some more cases … it was an amazing experience."
Teacher Patrick Hill, of Sir Bernard Lovell School, said:
"The opportunity to learn about the judicial system and to actually experience the live courts was too exciting to miss! The students thoroughly enjoyed their time at court and even more excitement prevailed when His Honour Judge Horton spend a day at SBL. Students paraded in gowns and wigs, took on a real case, formed a jury and provided a verdict."

"Getting Court provides invaluable information and experience for students. It's designed to help to prepare them to become independent and able to make informed decisions as they take their place in society."
HHJ Horton said:
"I believe that every child should have the opportunity to see the criminal process in action. There is no more effective learning process than the experience of seeing and observing the life-changing events which take place in the court room. The legal system seeks to act fairly towards the diverse people from all walks of life who appear before it as a defendant, witness or supporter. Observing how the court attempts to provide justice for all in the communities it serves and protects can only lead to greater understanding of the essence of the way the law treats all as equal, regardless of their colour, creed or religion."
The scheme links in with the crime and punishment section of the personal development programme for years nine and ten – pupils aged 13 and 14.
Source: Avon and Somerset Police