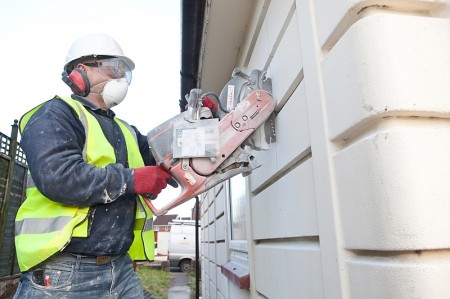 Work has begun on a £20m project to improve 1,000 homes in South Gloucestershire.
Merlin Housing Society is carrying out external improvements to most of its non-traditional housing stock to make them warmer and cheaper to heat. The first phase of work involves 48 properties in Cadbury Heath.
Project manager Richard Hopkins said:
"It's great to get underway with this work as residents have been waiting a long time for this. Their homes suffer from problems with cold and damp, but these improvements will make them warmer, cheaper to heat and more weather-proof and should make a big difference to everyone who lives in them."
The first phase of work is due to be completed in September; Merlin will then roll out the rest of the programme, which includes properties in Filton, Kingswood, Patchway, Thornbury, Yate, and Chipping Sodbury.
The £20m project will see improvements made to around 1,000 non-traditional homes (also known as precast reinforced concrete (PRC) homes). The homes were built in the 1940s and 1950s as a quick build solution to the housing shortage after the Second World War, but their condition has now started to deteriorate.
As well as the 1,000 properties being refurbished Merlin is considering redeveloping a further 410 properties.