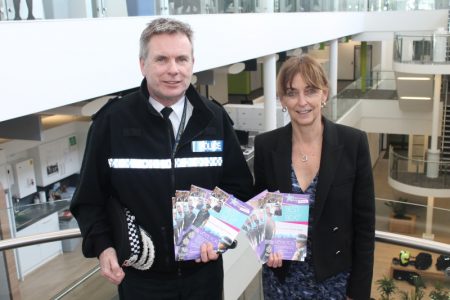 Local communities from Thornbury to Yeovil, Williton to Wells and all those in between are being asked once again by Avon and Somerset Police and Crime Commissioner (PCC) Sue Mountstevens and Acting Chief Constable John Long for their help in searching out the best in local policing.
Neighbourhood policing comes in all shapes and sizes; police officers, police staff, special constables, police community support officers (PCSO's), volunteers and police cadets – however all have the same ambition to keep the communities of Avon and Somerset safe and feeling safe.
That is why if you have a neighbourhood team making a difference where you live, or a police officer, member or staff or volunteer has changed your life for the better, we want to hear from you and now is your chance to nominate them for a Neighbourhood Policing Award.
Police and Crime Commissioner Sue Mountstevens said:
"I am delighted to be announcing the launch of the Neighbourhood Policing Awards 2015.  When I speak to residents and local people I hear many stories of how officers, staff and volunteers have gone above and beyond their duty or how a team has really made a difference."

"I hope that these people and the wider communities of Avon and Somerset take the time to nominate their local policing teams and tell us why they mean so much to them.  It is because the nominations come from local people that these awards are so valued by the officers, staff and volunteers who work hard to keep us safe."
The awards recognise the outstanding work of the Neighbourhood Policing teams and individuals in the following categories: Neighbourhood Beat Team of the Year, Neighbourhood Beat Manager of the Year, PCSO of the Year, Special Constable of the Year, Volunteer of the Year and the Outstanding Customer Service Award.  This year we will also be looking to recognise the work of Volunteer Police Cadets.
Acting Chief Constable John Long said:
"The Neighbourhood Policing Awards are held to acknowledge the continued hard work and commitment to the public by our officers. On a daily basis they work hard to ensure you feel safe and are safe, with little or no expectation of recognition for their efforts."

"If you know of and can take the time to nominate a police officer, PCSO, special constable or neighbourhood team who has helped you feel safe in your area, it would be a priceless thank you from the communities our officers live to serve."
To nominate for this year's awards and see photos from last year's awards visit www.neighbourhoodpolicingawards.co.uk – the closing date for nominations is 4th August 2015.  Nomination forms are also available in police stations as hardcopies.
After this date, an independent panel will select winners across the policing areas and an awards ceremony will be held on Thursday 26th November 2015 at Cadbury House Hotel, where an overall force winner for each category will be announced.
The awards would not be possible without the support of local organisations.  Sponsorship opportunities are available for 2015 and if your organisation is interested in supporting this event please visit the Neighbourhood Policing Awards website.
Photo: PCC Sue Mountstevens and Acting Chief Constable John Long.
Source: Avon and Somerset Police and Crime Commissioner