Work starts on new footpath linking Alveston and Old Down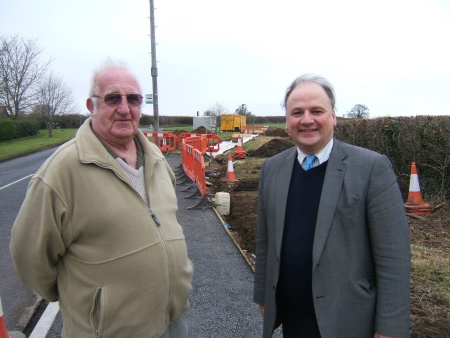 A Conservative councillor has joined local residents in welcoming the start of building work on a new footpath.
South Gloucestershire Council has started to construct the first phase of a long-awaited footpath between the villages of Alveston and Old Down.
Local residents have been requesting the footpath for a number of years. Back in 1992, Mr Arthur Webb, an Old Down resident, raised a petition of over 200 signatures to get it built. He is delighted that building work has started on the first phase.
As part of the scheme, new 'bus borders' are also being built at the bus stops to help those residents with mobility issues.
Local councillor, Matthew Riddle (Con, Severn), has backed the campaign. He said:
"I am really pleased that building work on the first phase of the much-needed Alveston to Old Down footway has started because Down Road is quite a busy road for a rural area."
"For a number of years now, there's been a great deal of local support for this scheme and so I am pleased to have been able to play my part in ensuring that building work has finally started."
"There are a lot of brave dog walkers and runners who currently have to walk or run along the side of the road – I think many more are put off altogether from trying to make the journey on foot between the villages."
He added:
"Footpaths as long as this are usually built in phases, and so, whatever happens after the local elections in May, I will continue to campaign for this significant transport scheme to be completed as soon as possible."
Weather permitting, construction on phase one is expected to have been completed in March.
Source: Conservative Group on South Gloucestershire Council

Last 5 posts in General News